#1 of 20 Types of Fiber
February 11, 2016
Chicken Chili Verde
February 20, 2016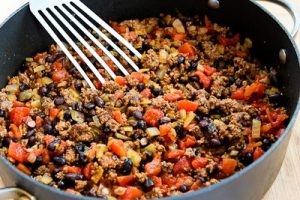 Ingredients:
1 lb 95-97% lean ground grass-fed beef
1-2 tbsp macadamia oil
3 (15 oz) cans diced tomatoes with green chiles
3 cups beans of your choice (black, cannellini, kidney, navy)
1 white onion, diced
2 tbsp chili powder
1 pound washed spinach leaves
Handful green onions, chopped for garnish
Handful of cilantro, chopped for garnish
Directions:
In a large stockpot, cook ground beef with macadamia oil over medium-high heat until browned, stirring frequently. Drain excess fat. Add remaining ingredients and stir to combine. Bring to a boil, then reduce heat to medium-low. Cover and simmer for 15 minutes or until the onion is cooked and softened.
Serve warm with garnishes to taste.