Curry powders come from South Asia and provide a range of health benefits. The key ingredient is the turmeric, which is usually found in the more typical yellow curries. A host of studies have shown that turmeric can help prevent everything from Alzheimer's disease to cancer. Curry is a great way to get those benefits in with your dinner. I have the perfect recipe for you. :)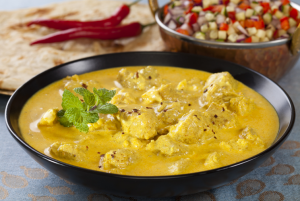 Ingredients:
2 tsp toasted Sesame oil – Eden brand is my favorite
2 to 4 ounces thai yellow curry paste
2  – 13.5-ounce cans coconut milk
1 pound skinless chicken breasts cut into 1-inch pieces
1 pound zucchini, cut into thick half-moons
1 pound of sliced mushrooms
Tamari – wheat free fermented soy sauce from non-GMO soy or coconut aminos
Bonus Ingredients:
fish sauce to taste – typically a few splashes of it are enough. If you can, please do include it. It's an essential part of the flavor
Fresh turmeric – I keep mine frozen and use a microplaner to shave off small amounts as needed. Try 1 tsp in this dish and add it at the very end
Directions:
Heat the oil in a 4-quart heavy pot set over medium-high heat, and when the oil is hot, add the curry paste. Fry the paste for 2 minutes, stirring frequently.
Scoop the thickened coconut solids out of both cans of coconut milk, leaving the watery milk below. Fry these solids for about 2 minutes along with the curry paste, until the oil starts to separate out, forming beads on top of the curry paste. Add the chicken pieces and stir to combine.
Add the rest of the coconut milk and reduce the heat to medium-low and simmer for 20 minutes, or until the chicken is cooked through.
When the chicken is done, add the zucchini and simmer just until tender. Taste and adjust seasonings with fish sauce, pepper, and coconut aminos/soy sauce.
Serve with a ½ cup of cooked rice. This keeps well for up to 5 days in the fridge. Enjoy!