Vegetable Friend Rice
This is an easy, tasty and healthy side dish.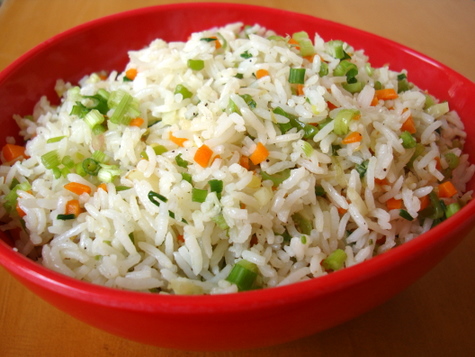 1 cup brown rice
1 cup vegetable broth
2 eggs, lightly beaten
2 tsps canola oil
6 oz asparagus spears, trimmed and cut into 1-inch pieces
1 medium red bell pepper, thinly sliced
4 scallions, cut into 1-inch pieces
1 clove garlic, minced
1 Tbsp minced fresh ginger
4 tsps Bragg's Liquid Aminos
2 Tsps rice vinegar
1 tsp toasted sesame oil
Hot red pepper sauce, to taste
Combine rice and broth in a small saucepan. Bring to a boil over high heat. Cover, reduce heat and simmer until the liquid is absorbed, 12 to 14 minutes. Spread the rice out on a large plate and let stand for 5 minutes.
While the rice is cooling, coat a large wok or skillet with cooking spray and place over medium heat. Pour in eggs and cook, stirring gently, until just set, 30 seconds to 1 minute. Transfer to a small bowl.
Heat oil in the pan over medium-high; add asparagus and cook, stirring, for 2 minutes. Add bell pepper, scallions, garlic and ginger; cook, stirring, until the vegetables are just tender, about 2 minutes. Add the cooked rice, liquid aminos and vinegar to the pan; cook until the liquid is absorbed, 30 seconds to 1 minute. Fold in the cooked eggs. Remove from the heat; stir in sesame oil and hot sauce.
Try it as a side dish or try this:  cut 2 chicken breasts into bite-sized pieces, dip them in a mixture of equal parts olive oil and Bragg's Liquid Aminos, and bake them at 375 degrees for 12 minutes.   Add the chicken to this dish once it is cooked for a healthy Chinese food dish!
For more recipes and health tips, enter your information below.
*We respect your privacy and will not share your information.*