Click here to return to our archive
October 14, 2010
Volume 2, Issue 21

A Note From Dr. Christianson
Greetings !

The cooler weather is finally here, and that means more time for you to "play" outside. Take a moment to think about that. Vitamin N for nature. Research has shown that walking on a treadmill releases 1/3 as much endorphins as walking outside. Your body needs to move in the fresh air and sunshine just as much now as you did when you were a kid. Walk to the mailbox. Take the dog for a walk. Go for a hike. Ride a bike (or a unicycle!). Take a rock climbing class. Play golf, tennis, racquetball….anything to move your body while you are outdoors!

When I'm out exercising my mind really cleans out the clutter. The other day the "clutter" was about a video I'd recently seen. While searching the web I came across a famous conventional doctor who began practicing natural medicine late in his career and claims expertise in it. And he is totally out of shape! Then it hit me, I want to make videos! What a great way to share information I love – while I'm outdoors living the life of natural medicine. I can share things I know about gaining vitality and playing hard while sharing the beauty of nature with you. A few days later I had 12 of them done. One was done while dangling 60 feet up in the air on a rappel line. One was on a mountain unicycle. Here's a quick video about why I am doing it.

If you want to hear some frequently asked questions answered "in good health" (each video is only 5 minutes), you can see them on my Youtube Channel. I'd love to hear your thoughts. And if you have any topics you'd like to see covered, let me know.



Hopefully this will help to inspire you to get moving. See you outside!
In Good Health,

PS- Welcome to all of our new subscribers! We love interacting with you. Please join the community on the blog or facebook and twitter. All the links are listed above in the "Quick Links" section. And if you ever want to connect with us, just reply to this newsletter. Thanks for joining the "in good health" community.

In Pain? Try this! – Dr. Ann Lovick
Back when I was in medical school, I injured my shoulder helping a friend move some heavy furniture. I was in unbearable pain and anti-inflammatory supplements just weren't cutting it. It just so happened I had an acupuncture class the next day and when I told my teacher, Dr. Deng, how much pain I was in, he stuck a needle in my scalp and asked me if my shoulder still hurt. Remarkably, it did not. I know this sounds unbelievable to anyone who hasn't experienced acupuncture, but I no longer felt the throbbing pain in my shoulder. I was amazed. How could a needle in my scalp bring that type of relief?
Millions of people suffer from pain. In fact, pain relief is one of the top reasons people visit their doctor. Acupuncture is a wonderfully gentle form of therapeutic healing from one of the world's oldest societies, China. Forms of it are estimated to go back anywhere from 3000 to 8000 years.
The philosophy involves the flow of energy through the body. When the energy flow gets blocked, as it does with injury or illness, it can cause stagnation and pain. Tiny needles, about the thickness of a hair, are inserted in various points in the body to promote proper energy flow that provides nourishment and healing to all of the tissues in the body.
Acupuncture also promotes proper circulation to carry nutrients and the body's own anti-inflammatory chemicals to the injured area better as well as remove waste products and dead tissue. Conventional treatments for chronic pain usually involve pain relief medication which only masks the pain. But these meds sometimes do more harm than good because they tear up our digestive system, weaken connective tissue, and do nothing to help the body heal. Acupuncture balances the body naturally, gently and effectively without side effects.
My shoulder injury was severe enough that I required acupuncture combined with additional rehabilitations. It relieved the pain of the injury, which prevented me from needing pain relievers!
Acupuncture is an extremely effective and gentle, natural pain reliever that also promotes the body's ability to heal itself.
Do you have a great acupuncture story to share? I'd love to hear yours. Comment on the blog.
_______________
(c) 2010- Integrative Health Care, PC
Would you like to use this article? You may as long as you use the following information along with the article:
Ann Lovick, NMD, Ann Lovick, NMD, is a trusted physician for Integrative Health in Scottsdale, AZ. Integrative Health offers a fresh approach to living well by using a novel formula for science-based natural medicine. She and the team of physicians discover the cause of each patient's troubling symptoms and protects their long-term health and quality of life.
Dr. Lovick specializes in comprehensive women's health care. She focuses on providing natural and effective treatments and prevention strategies to women. She helps women resolve fatigue, increase energy, balance hormones, enhance immunity, and find allergy relief.
Dr. Lovick is also an educator, football fan, and triathlete. She can be reached at
www.MyIntegrativeHealth.com and 480-657-0003.
Recipe – Vegetable Fried Rice
This is an easy, tasty and healthy side dish.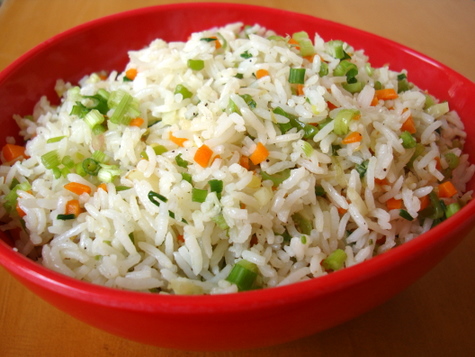 1 cup brown rice
1 cup vegetable broth
2 eggs, lightly beaten
2 tsps canola oil
6 oz asparagus spears, trimmed and cut into 1-inch pieces
1 medium red bell pepper, thinly sliced
4 scallions, cut into 1-inch pieces
1 clove garlic, minced
1 Tbsp minced fresh ginger
4 tsps Bragg's Liquid Aminos
2 Tsps rice vinegar
1 tsp toasted sesame oil
Hot red pepper sauce, to taste
Combine rice and broth in a small saucepan. Bring to a boil over high heat. Cover, reduce heat and simmer until the liquid is absorbed, 12 to 14 minutes. Spread the rice out on a large plate and let stand for 5 minutes.
While the rice is cooling, coat a large wok or skillet with cooking spray and place over medium heat. Pour in eggs and cook, stirring gently, until just set, 30 seconds to 1 minute. Transfer to a small bowl.
Heat oil in the pan over medium-high; add asparagus and cook, stirring, for 2 minutes. Add bell pepper, scallions, garlic and ginger; cook, stirring, until the vegetables are just tender, about 2 minutes. Add the cooked rice, liquid aminos and vinegar to the pan; cook until the liquid is absorbed, 30 seconds to 1 minute. Fold in the cooked eggs. Remove from the heat; stir in sesame oil and hot sauce.
Try it as a side dish or try this: cut 2 chicken breasts into bite-sized pieces, dip them in a mixture of equal parts olive oil and Bragg's Liquid Aminos, and bake them at 375 degrees for 12 minutes. Add the chicken to this dish once it is cooked for a healthy Chinese food dish!
Things We LOVE
1)
The MAiZE
It's that time of year again! The Fun Farm Corn Maize is open until Halloween. It's a great excuse to get the family out and moving!
2) Eggplants are in season right now. Bake them with extra virgin olive oil,
fresh rosemary, and coarse sea salt for a flavorful and low-fat side dish.
3) Youtube As much as we love the Internet, we don't love all the mis-information on it. That's why Dr. Christianson is giving you accurate (and interesting) health tips to help you stay "in good health." Check it out!